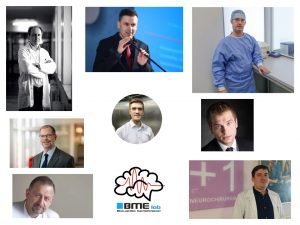 None of us expected that our First Team project funded by the Foundation for Polish Science is going to make such an impact on studying 
and
 treating brain disorders in Poland. This month our application for additional funding of high-tech equipment for brain recording and stimulation was approved, following a preceding ethical approval for using it for research and clinical purposes in Poland. Initially it was planned to be used with patients suffering from Parkinson's disease and movement disorders during the so-called Deep Brain Stimulation therapy (DBS), in which the affected brain circuits are electrically stimulated to restore motor functions. The new equipment would allow investigation of memory functions during this therapy with a potential additional benefit of enhanced clinical localization of the DBS targets in the brain.
We did not expect that our clinical research partners from the Medical University of Wroclaw will be inspired to go even further. Prof. Pawel Tabakow and his team at the department of Neurosurgery (upper right corner of the photo) proposed together with us to introduce in Poland the same procedures that are practiced in our project by the Mayo Clinic partner (Prof. Gregory Worrell) to treat severe cases of epilepsy. In this application, the same equipment is used to record and stimulate brain activities in epilepsy patients to localize and treat seizures, as well as to investigate memory functions. To pioneer this program in Poland, Prof. Tabakow had to take his team for a special neurosurgical and neurological training in Germany, as there was no other center that was practicing it in our geographical region – Polish patients with drug-resistant epilepsy so far have to be treated in Germany or Czech Republic.
Our research data has also been relying on our partnership with Mayo Clinic in the USA. Now we will start the same research in Poland. Hence, this program opens up new avenues for world class clinical neuroscience with the latest models of the equipment that are not yet available even at our American or German partners. This decision is putting our research at the frontier of exploring and treating memory and cognition in the human brain, and is introducing Polish neuroscience to the global scene of the international brain projects like the Human Brain Project or the BRAIN initiative.
First patients are planned to be implanted in the second half of 2020. We are working together with our industrial partners in the USA and Europe to facilitate implementation of this cutting-edge technology in Poland. This ground-breaking task of technology transfer has been made possible thanks to a team effort of our many partners. Prof. Jaroslaw Slawek (top left) and Prof. Andrzej Czyzewski (bottom left) played key roles in planning, purchase, and transfer of the technology. Members of Prof. Tabakow's team, including Dr. Konrad Kubicki and Dr. Wojciech Fortuna (top right) drove the idea and obtained approvals for the new epilepsy program in Wroclaw. Dr. Witold Libionka from the Copernicus hospital in Gdansk (bottom right) helped with planning and advising new electrode designs for the DBS procedures with the industrial providers. We hope that in the nearest future this program will be extended to the DBS procedures in Gdansk and will eventually inspire new programs for human brain stimulation to treat epilepsy and other brain disorders.
Visit our website if you have more questions about the coming programs for treating patients in Poland. We will be happy to direct you further…