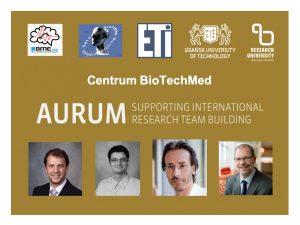 This month we received exciting news about receiving an intramural grant from the Gdansk University of Technology to build an international database of brain recordings and stimulation from patients performing memory tasks with eye tracking. The grant is called 'AURUM – Supporting International Research Team Building' and is part of a larger 'Uczelnia Badawcza' award from the Polish Ministry for Science and Higher Education for the top research universities in Poland. In this larger award, we were ranked the 1st technology university and 2nd university overall in Poland. Our BME lab is contributing to the biomedical research area of the award under the new BioTechMed Center among other four priority areas.
The Aurum grant will allow us to build an international network of research collaboration within the BioTechMed Center called the BME iEEG network,  standing for 'Brain & Mind Electrophysiology intracranial EEG network'. The network will be focused on creating a new iEEG database of patients from Poland, Czech Republic and the United States – all performing the same tasks with tracking of eye movements. The grant will provide servers, patient equipment and special hybrid electrodes that will be used across the three sites. To our knowledge, this will be the first database like that in the world, providing unprecedented knowledge about how human memory works and how it can be improved.
Last but not least, the grant will enable two specialists and two high profile leaders in the field to join our BME lab for postdoctoral fellowships and visiting professorships – Dr. Jan Cimbalnik and Prof. Milan Brazdil from St. Anne's University Hospital Brno, and Dr Brent Berry and Prof. Gregory Worrell from the Mayo Clinic, USA. The grant will start with Dr. Kucewicz from our BME lab visiting Brno early in 2021 to set up patient experiments. Then Dr. Cimbalnik will start his fellowship and data analysis in our Gdansk lab. Dr. Berry will join him in Spring to analyze the new data. Then we will arrange for Prof. Brazdil and Prof. Worrell to join us in the Summer to discuss the first results, present their research to our wider university community, and plan for the next grant proposals to continue this international collaboration at the BioTechMed Center with funding from the prestigious grants of the European Research Council (Consolidator) and the American National Institute of Health (BRAIN initiative).